Online Store
NALHFA offers two industry-specific publications that offer insight into the world of housing bonds. Check them out below!
ABCs of Housing Bonds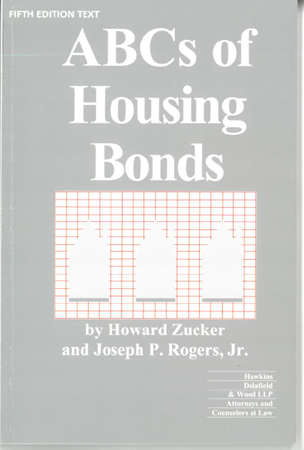 ABCs of Housing Bonds
By Howard Zucker and Joseph P. Rogers, Jr.
5th Edition, 1993
The 5th edition of the ABCs of Housing Bonds introduces readers to the rules applicable to the financing of multifamily and single-family housing with bonds, the interest on which is not included in gross income for federal income tax purposes. 

It is divided into six parts:
Background of housing bonds as well as the distinction between a "governmental bond" and a "private activity bond"
Rules applicable to providing multifamily housing pursuant to the Internal Revenue Code of 1986
Rules applicable to the financing of owner-occupied residences with qualified mortgage bonds pursuant to Section 143 of the Internal Revenue Code
Arbitrage rules applicable to financing both multifamily housing bonds and qualified mortgage bonds under the Internal Revenue Code
Other restrictions applicable to housing bonds
Special topics of current interest in the housing bond market
Bonds for Beginners
Bonds for Beginners: An Instructional Guide to the Key Concepts of Tax-Exempt Housing Bond Finance 
By Mtumishi St. Julien, Ernestine Garey, Olson Lee and Michael G. McMahon
2nd Edition, April 2008   
The best selling Bonds for Beginners has just gotten better. Now in its second edition, Bonds for Beginners is an essential tool for professionals financing affordable housing. This edition contains new information on underwriting, issuing, mortgage credit certificates, and compliance-monitoring of tax-exempt multifamily bonds.
Bonds for Beginners is a good orientation tool for new board members and employees of housing finance agencies, public housing authorities, community development agencies and non-profit organizations involved in financing affordable housing.
This guide provides individuals with a good foundation of knowledge, so they can work more successfully with agency professionals and staff. Most importantly, Bonds for Beginners is written in clear, easy-to-understand language that is concise, while still addressing the important technical nuances of housing bond finance.
Chapter Overviews (Each chapter includes a Summary and Learning Questions):
Bonds & Yields: Overview of a bond and how to measure interest and yield
Credit Worthiness: The basic process for determining credit worthiness
Issuing Bonds: The bond issuing process and how the bonds are repaid
Selling Safety & Quality: How issuers make bonds more attractive to the bond market
Housing Bonds: The conditions under which housing bonds can be issued
Playing the Market: What happens to bonds in the market after they are issued
Default Watching: The issuer's duty to monitor their bond issues
"This is a particularly valuable book, which we have used with staff and elected officials' offices to understand how revenue bond financing works."

Judy Karon
Department of Community and Economic Development 
Ramsey County, Minnesota
1-5 Copies
NALHFA Member. . . . . . . . . . . . $30.00
Non-Member. . . . . . . . . . . . . . . $45.00
6 or more Copies (for orders over 5, please contact [email protected])
NALHFA Member. . . . . . . . . . . . $25.00
Non-Member. . . . . . . . . . . . . . . $45.00